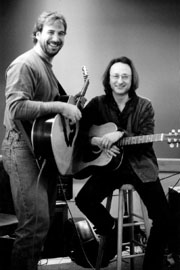 Photos Courtesy of Mary Lynne Cantrell
F.M. Smith's music is gentle, yet powerful. He wields his acoustic guitar as a weapon of beauty and emotion -- mixing jazz, folk, and soul into a rich stew of subtle nuance and soothing tones, but underneath the calm exterior of the music are lyrics that reach out and embrace the broken- hearted and the disillusioned. Smith is influenced by the '60s and '70s legends he has listened to throughout his life, including Joni Mitchell, David Crosby, and The Byrds, as well as the unique new age singer/songwriter and guitar master Michael Hedges.
The two time recipient of the American Billboard Songwriter's Contest Award has performed with Rob Bonaccorsi, slide/lead guitar and vocalist from the renowned Freddy Jones Band. Smith's music is the perfect canvas for Bonaccorsi's creative stylings, and their performances are a rare combination of technical beauty and joyous spontaneity. Smith is currently creating more music for a new recording which will, in part, feature Bonaccorsi, and will hopefully be the culmination of the duo's on-stage explorations.
In the meantime, 44U , Smith's first recording, has been re-released on cd as "Old Shoes"and features songs remastered from the original recording plus bonus tracks. Additionally, some of his previously unreleased material has recently been revived by Fervor Records for use in feature film, television programming, and commercials. A short childrens' book written for adults entitled "The Christmas Butterfly" is available this holiday season. This is a stunningly beautiful collaboration of FM's words and Carolyn Lombardo's watercolor illustrations.
Smith has been a resident of the Chicago area for more than 30 years, though his roots are East coast. He was drawn to music early in his life and at age 13, he put together his first band. Smith acknowledged, "I've been involved in several different careers throughout my life, but music is something I've always come back to. It is who I am, it is my home. I try to look at every day and every musical experience that I have as a gift."